5th November 2020, 06:20 AM
LIKE A CRYSTAL H-Initiate

Join Date: Jan 2008

Location: #1 BREAKERZ fan in Singapore ♥

Posts: 104,674
NHK reveal hosts for the 71st Kohauku Uta Gassen 2020
---
Quote:
NHK has announced the hosts for the "71st Kohauku Uta Gassen". Uchimura Teruyoshi and anchor Kuwako Maho will serve as general moderators. Actor Oizumi Yo will lead the white team while actress Nikaido Fumi has been chosen for the red team.

This will be Uchimura's 4th time hosting for 4 consecutive years while this will be Kuwako's 3rd time following 68th and 69th Kohauku Uta Gassen.

This is the first time for Nikaido to be hosting for the programme. She has appeared in several NHK taiga dramas such as "Taira no Kiyomori", "Gunshi Kanbei" and "Segodon". In the Asadora drama "Yell" aired in March this year, she played the heroine Oto Sekiuchi, wife of the main character and became the "morning face of Japan".

On the other hand, this will be the first time for Oizumi to host the programme. He has appeared in NHK taiga dramas "Ryomaden" and "Sanada Maru" and in the Asadora drama "Mare". Since 2018, he has also served as the host for the NHK music programme "SONGS".

The artist rooster and song order are yet to be revealed. The 71st Kohauku Uta Gassen will be broadcast live from NHK Hall on December 31st, starting at 7:30 pm JST.
https://www.tokyohive.com/article/20...haku-utagassen
__________________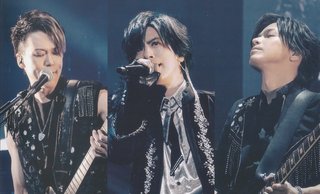 Dedicated BRZ fan since 2008 debut single ♪ | team brz member ♥

My JPop Blog | My Twitter | BRZ Thread 46 | BRZ LiveJournal | BRZ Official Site